Who Are We?
Our "E-volution RV"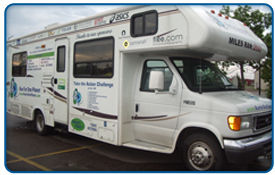 When we decided to use an RV to shelter us for the year, we knew it had to be in alignment with our tour's message of inspiring environmental action, one step at a time. As a 28-foot diesel powered motor home isn't exactly eco- friendly in and of itself, we took it upon ourselves to use it as a showcase of the many sustainable alternatives available today to not only make a lighter footprint in an RV, but that people could also take into their own lives and homes.
Thus began a 10-month journey to put as many e-friendly alternatives on top and inside, and find as many fuel alternatives available around the continent to run our home for the year.
We certainly are not saying it is perfect by any means, only that we did as many things as possible given our timeline, knowledge, and budget, and we are still on the lookout for a few key items to go even greener. Moreover, we would like the tour's home to be seen as an "environmentally evolving RV", hence why we call her our "E-volution RV".
These are our E-volution RV's retrofits:
Electrical Power
Sponsored by Carmanah Solar Technologies.
Solar Panels
By using the power of the sun, Carmanah's Go Power Solar Kit provides enough power to run our appliances, computers, and almost completely reduces our need to plug into the grid.
Fuel
Sponsored by independent, certified bio-diesel providers around North America
Where possible, the tour has used non-food based tallow biodiesel, 2nd generation biomass, and other non-food base bio fuel. When this fuel is not available, we are fuelling on straight, ultra low sulfur diesel.
Carbon Emissions
Sponsored by Alten ES
At the completion of our tour, we will add up our carbon emissions we were not able to reduce, and have them offset by the carbon offsetting company, EcoNeutral, in Vancouver, BC.
Shirts
Sponsored by Eco Apparel
Our tour shirts consist of natural, sustainable, and recycled fibers, use less water, agricultural land, pesticides and natural resources, have no chemical treatments that can be absorbed through the skin, are non-toxic, hypoallergenic, and are healthy for your body.
Main Cabin
Sponsored by Home Depot's Eco Option's Program
No VOC (volatile organic compound) paint
Low-flow water devices installed in kitchen sink, and shower head. This reduces water consumption by reducing the flow rate. We also practice conservation by turning the water off when washing dishes, stop the flow after initial rinse when showering and washing hands. The RV has a 60 liter tank which 3 people go through every 2 - 3 days.
Master & Crew Bedroom
Sponsored by M Smart Design
Natural latex mattress (master)
Natural rubber topper (crew)
Organic wool filled duvet
2 organic cotton sheet sets
2 duvet sets
Organic wool blankets
Organic wool & kapok-filled accent pillows
Organic bamboo covering all seats
Organic wool covering valences on window accents
Organic wool area rug
Kitchen
Sponsored by Planet Organic Market, Level Ground Trading, and Transform Compost
As much as possible, we are only consuming 100% organic food, drink, and supplements.
Our coffee is traded fairly and directly with small-scale producers in developing countries.
Much of our organic materials are broken down by earthworms in our compost (also called a "vermicompost").
Office
Print Sponsored by Hemlock Printers
25% recycled post-consumer polyethylene waste basket & recycling basket
Eco-degradable garbage bags
All print materials use 100% post consumer recycled paper
Bathroom
Personal Hygiene Sponsored by Saje Natural Wellness
100% natural essential oils, sprays, body washes, soaps, lip balms, and lotions, packaged in recyclable containers
Seventh Generation toilet bowl cleaner
Seventh Generation natural dish washing liquid
Nature Clean natural soap
Cleaning Products sponsored by Green Works Natural Cleaning Products
Made with 99.9% natural ingredients
Biodegradable and non toxic
Petrochemical free
Water sponsored by Brita
Better for the environment
No bottles to throw away
1 Brita filter replaces 300 water bottles
Garbage bags sponsored by GLAD
100% compostable/biodegradable
made with natural, renewable resources
helping to divert trash from landfills
We have two remaining items on our Wish List to further the RV's environmentally friendly evolution. These two items are:
Grey Water Recycler
Solar Water Heater
Should you wish to contribute to the RV's environmental evolution, please contact Matt Hill at Matt@RunForOnePlanet.com. Thank you very much!